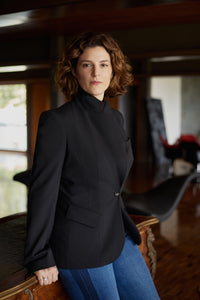 SOUCY is the brand created by Mariela Torres Soucy, who has been crafting dreams to life since 2000. A native Venezuelan known for her design artistry, creative vision and artistic sensibility, Mariela's couture-infused creations interpret the femininity alluring strength and poise of a modern global woman.
SOUCY offers two distinct propositions both anchored in a detailed observation of urban contemporary behavior and the understanding of women's physical and emotional needs.
The New York Atelier is based on an Appointment Only philosophy in order to preserve its couture craftsmanship and close connection to the client. The Ready-to-Wear line includes pieces that allow you to set forth your style and personality, connecting with yourself and others. SOUCY is the content luxury brand that always looks good because it highlights who you are.